Interesting enough…
I wasn't born Jewish nor Muslim – – Yet, I can assure you that JITLI has made a great impact in my life.
What is JITLI? There are many answers for what JITLI is… here is mine below:
Many people ask me, "how is it that I came across JITLI?" – a program for Jews and Arab. Within seconds, I smile back – and pause for a moment. I usually tell everyone the same answer. I ask "do you want the long version or the short version?"
Let me give you the long answer. It goes something like this…
In 2005, I graduated from high school and decided to give back and volunteer through my Digital Media Program. This program basically taught me about video filming and video editing.
It was through this program that I got connected through JITLI.
The big man on campus, Nathan E. Fisher – – A great friend of mine introduced me to the JITLI director, Yaacov Schneider. Nathan went on JITLI 2005 that summer and came as a changed person.
During this meeting between Yaacov Schneider, Nathan, the teacher, and myself sat down for a meeting. There, Schneider pulled out this ridiculous half blue, half silver, reebok shoebox. Inside this shoebox, over seventy-six mini dv tapes.
Prior to JITLI, I had zero knowledge about Israeli-Palestinian conflict… I thought Israel was a big desert with lots and lots of camels. When I saw a Muslim woman on the streets, I asked myself why is she here? – It had nothing to do with 9/11.
It was after my first JITLI experience, that the next time I saw a Muslim woman walking down the streets, I really wanted to pull my car over and talk to her… ask her about her life story, and how she ended up here in San Diego.
This is what JITLI did to me.
Here are my JITLI experience (all 5)
Fast forward to July 2006. I remember the first day of JITLI, where I caught up with Shaun Goldstone (2005 Counselor), he had asked me for a favor to help him carry some stuff from his car… then he says "Can you believe it? We have Asians on JITLI now" – – I laughed along with Shaun, it was quite funny.
To summarize for you on what my exact role on the trip entailed, my role was to videotape every event, discussion, dialogue, joke, etc on the trip. I was basically holding a camera, every hour, every day of the trip.
Israeli Arabs would always come up to me everyday and say "picture me, James, picture me". Half the time I would pretend to film because I didn't have enough mini dv tapes.
Since I had the camera on 24/7, and I had to watch every minute of the trip – I was learning through the camera lens. I learned about the cultures from Sha'ar HaNegev to Lakyia to Segev Shalom, and sometimes even San Diego.
There was a pivot moment on the JITLI 2006 trip that made me realize why JITLI was a life-changing program.
Towards the end of the 2006 JITLI trip, I took the opportunity to stay over in Sha'ar HaNegev, whereas the JITLI trip diverted from it due to safety. I stayed for two days, and three nights. I felt rockets shot over my head, and I heard artillery during the nights – I couldn't sleep. I realized this was the reality of Sha'ar HaNegev and other communities whom all lived within five miles from the Gaza strip.
Another moment was during a home hospitality in Lakyia. A town of about five thousands beldouins. We visited the "Talaka" side of the mountain and slowly cemented homes transitioned to metal sheds; while we drove on rocky, unpaved, roads.
The hospitality was amazing. The families treated us like as if we were their own children. If it wasn't for JITLI, I wouldn't of never known where Lakyia was in the world, and who the people were, and what stories they had to share.
After my 2006 trip, I flew back to the United States and realized that I lived in a paradise compared to the Middle East. I was blessed with everything.
That following winter, December of 2006, I flew back to Israel because I really wanted to see all the friends I had met. I visited Sha'ar HaNegev and Lakyia this time.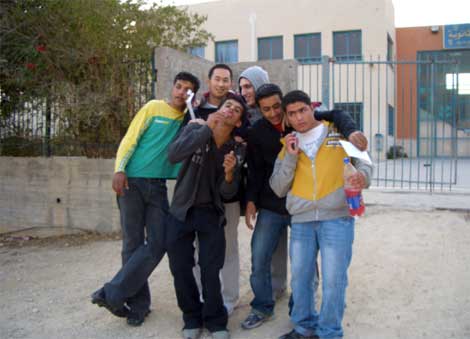 I went back in March of 2007. We had a big reunion with the three communities at Kibbutz Or-Haner.
I thought I was finished traveling to Israel, I was wrong… Yaacov Schneider asked if I would like to be the videographer for the 2007 JITLI summer trip.
I said, "ABSOLUTELY"
JITLI is a once in a lifetime opportunity, and to go on it again… was well… twice in a lifetime opportunity. I was happy to go.
And so again, I got to re-live JITLI with forty brand new wonderful participants. This time I had more knowledge and awareness of the situation in Israel and about the Israeli-Palestinian conflict. I was more prepared than I was than 2006 JITLI.
I decided to stay an extra week after the JITLI 2007 summer trip. For a few days I traveled to Lakyia with a San Diegan friend to sleep over. This was another pivot moment of my JITLI experience.
I can tell you, I was a bit scared to sleep over in Lakyia, a beldouin village. I didn't know what to expect. Everyone was cousins with everyone, and knew everyone somehow someway.
When I got there, the kids all chased me and thought I was Jackie Chan's cousin or Bruce Lee's. It took me a little while to get used to.
We got to walk around the village and meet nearby residents, and learn about their stories. I'd learn about unrecognized villages and the life of an average Israeli-Arab living in Israel.
Without JITLI – – All these experiences wouldn't of happened.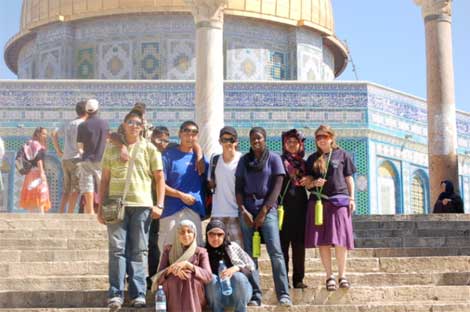 Fast forward to 2009. Yaacov Schneider approached me – – no scratch that. This time I approached Yaacov Schneider, and asked if I could be the videographer for the 2009 trip.
Yaacov Schneider agreed.
So for the third time, I had the golden opportunity to be part of JITLI again. This time my role was to produce a documentary about the JITLI counselors and to tell their stories. By this point, I knew JITLI like the back of my hand.
On the JITLI trips, I knew everyday that Schneider woke up at 5:30AM and got coffee at the kitchen. So, I can tell you that one of my MOST FAVORITE MOMENTS during the trips was waking up at the same time as Schneider and drinking coffee with him with the sun rising in Jerusalem.
It was during JITLI 2009, that San Diego counselor, Bryan Gurwitz, "retired" from the trip. Apparently, that didn't work the way it was planned.
In the year 2011, which was six years after I first started JITLI. I had a golden opportunity to apply for the JITLI educator position. A great friend of mine convinced me that I should go for it.
Nothing ventured, nothing gained.. right?
So, yes you guessed it. I would become the JITLI educator for the San Diego division in 2011. I had the opportunity to work with Michael Sacks (Emory). He will tell you how awkward our first staff meeting was.
Michael Sacks was a GREAT 2011 San Diego counselor.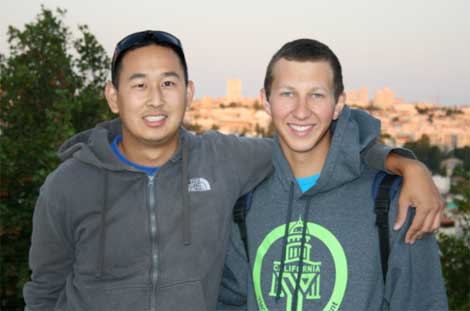 Fast forward to my last year on JITLI. (yes this time for reals).
I had the privilege to work with Heather Gillies (Tulane). Heather did an UNBELIEVABLE job while she was the counselor.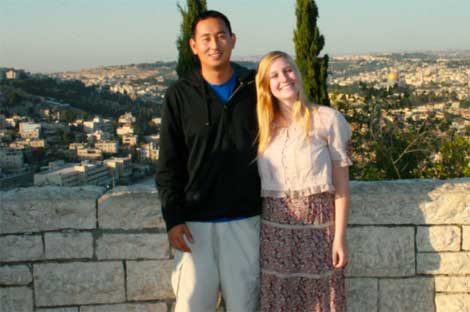 Heather would be the last counselor I got to work with on JITLI. She and Michael Sacks did something that no other counselors did in the past. Both were simply, amazing.
To this day, I still stay in touch with my friends from all throughout the years I have been involved with JITLI. I'll make it my goal to see everyone when I visit Sha'ar HaNegev, Lakyia, and Segev Shalom.
JITLI will always be part of my life, as it has been for all those who graduated from JITLI.
If it wasn't for Gary and Jerri-Ann Jacobs, this program would cease to exist. There is now over seven hundred JITLI alums, both including JITLI south and JITLI north division across the world. It's not a lot, its not big, but hey… its something.
I want to thank them for a Great program and for all they do. Thank you Gary and Jerri-Ann.