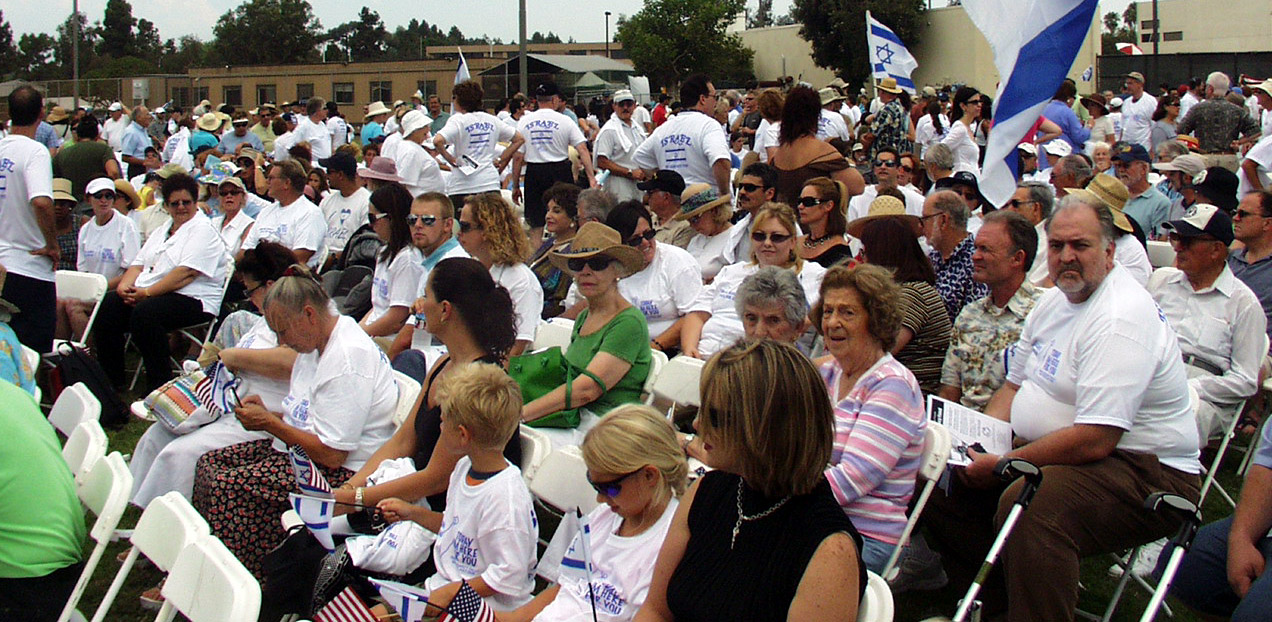 A slice of the crowd that turned out Sunday, July 23, for a rally for Israel at the Lawrence Family JCC
LA JOLLA, Calif.- There were cheers as Israeli and American officials expressed solidarity against terrorism, but there were tears of hope as 40 Arab and Jewish teenagers spoke and sang of their friendship and mutual desire for peace.
The occasion was an outdoor rally sponsored by the United Jewish Federation and 37 other Jewish organizations, agencies and synagogues in over 90-degree afternoon temperatures on Sunday, July 23, on the fields of the Lawrence Family Jewish Community Center. Organizers said that 2,000 people attended the rally-500 seated in chairs set out for the occasion, three times as many standing. Similar rallies were held in three other California metropolitan areas-San Francisco, Los Angeles and Orange County.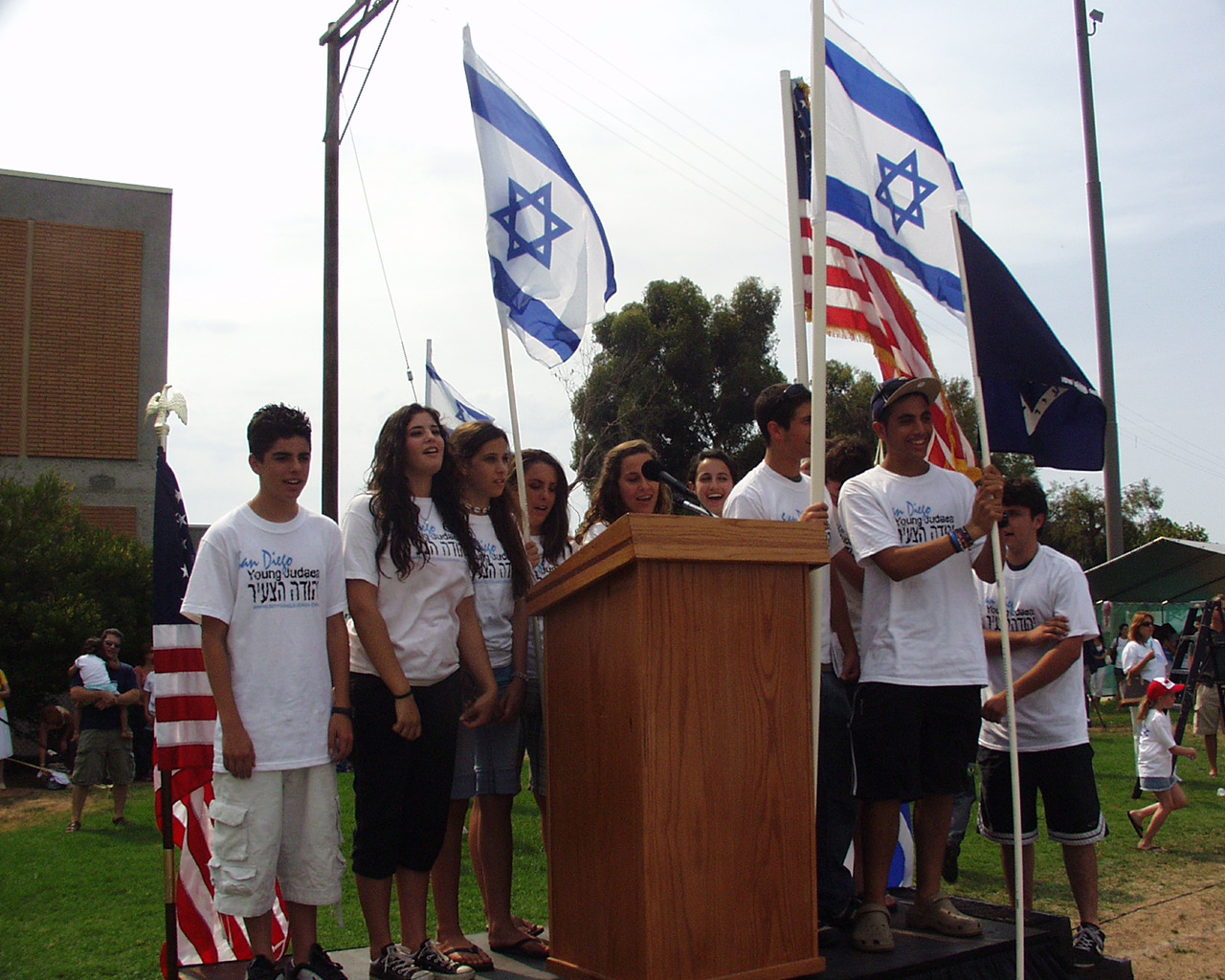 Some 15 speakers addressed an audience that donned blue-and-white T-shirts that proclaimed "Israel we stand with you." Numerous standard-size Israeli flags were on display, while hand-held Israeli and American flags, distributed for the occasion, were waved during the rally that began with the singing of the Star Spangled Banner and ended with the singing of Hatikvah. Both national anthems were led by youth from Young Judaea, an arm of Hadassah that also distributed the free T-shirts.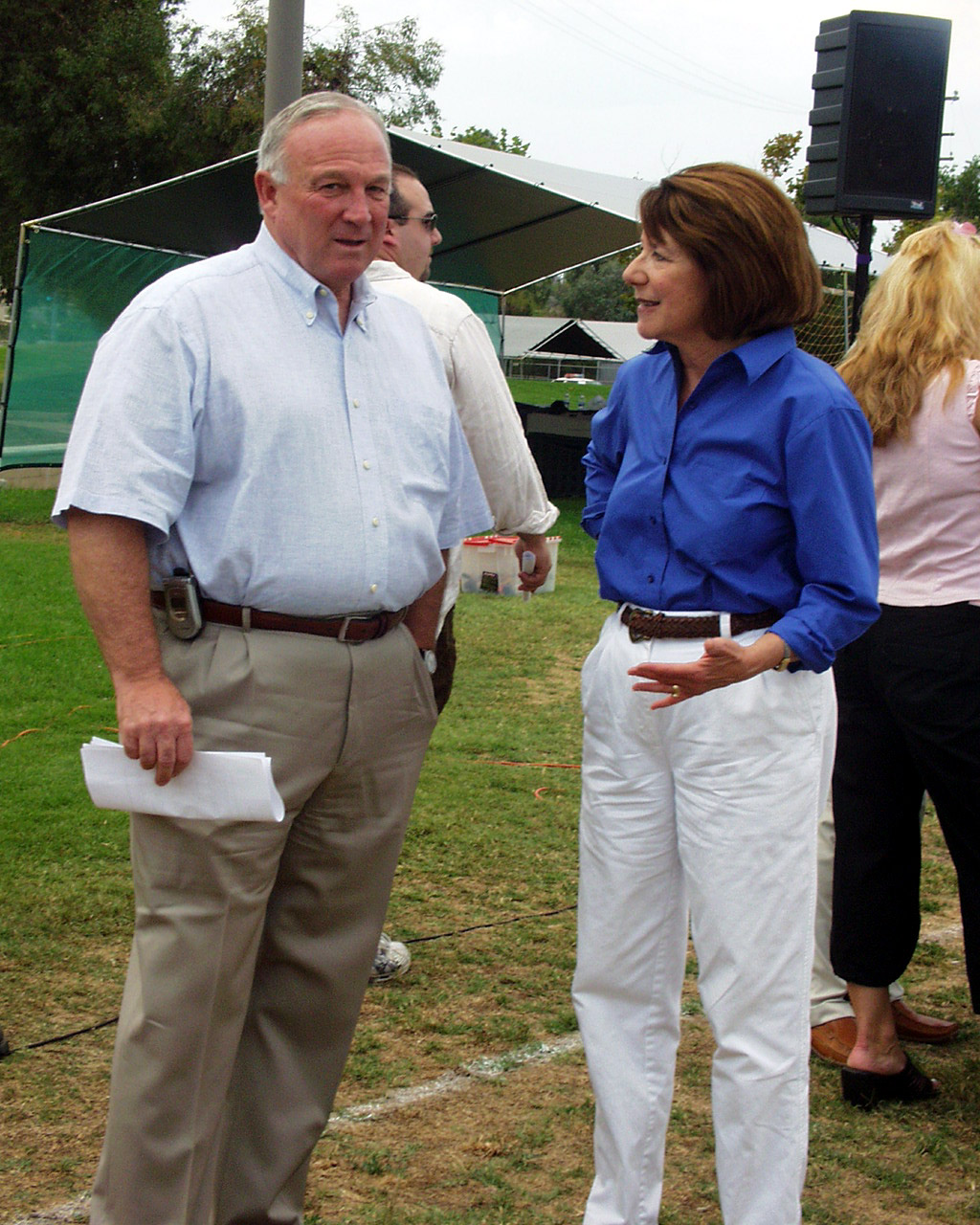 U.S. Rep. Susan Davis (D-San Diego) and San Diego Mayor Jerry Sanders, the headliners on the American political side, told respectively of a friend and an in-law who reside on Israeli kibbutzim. Davis, who lived on a kibbutz herself in the 1960s, shortly after graduation from college, said she had one kibbutznik friend who wanted to pass on a message to the rally: "Our wish for peace is genuine; all we require is to have someone come to terms with us. Someone who will respect their own commitments, someone who will recognize our right to life in a free country, a country where Jews are always welcome."
Sanders, who is married to Rana Sampson, a member of the Jewish community, told the crowd, "My sister-in-law lives in Israel. She has lived on a kibbutz there for the last 36 years. My wife- during the election (for mayor)
Mayor Sanders and Congresswoman Davis – she spent six weeks on the kibbutz with her when she was sick. And I understand the concerns that each of you feel about your family members because we feel the same about our own family members who are there right now."
 Moving from the personal to the political, Davis took note that members of the international community have criticized Israel for what they call a disproportionate response to the killing and kidnapping of Israeli soldiers by Hezbollah forces which made a cross-border raid from Lebanon. However, she said, when it comes to taking measures to protect civilian lives, Israel has a far better record than its foes.
 "I have seen the Hezbollah's military capability and I know that they are not a benign force," Davis said. "Unfortunately reading about Hezbollah's capabilities in the paper, or even by watching CNN, does not tell the whole story. Thanks to Iran and Syria, Hezbollah has acquired thousands of rockets with the potential for massive damage. This includes radar-guided munitions. Sadly Hezbollah has also transformed Syrian-made rockets into a weapon of true terror by loading them up with ball bearings. We are all aware that the use of ball bearings is a tactic suicide bombers have used for years to maximize casualties, and we have seen on the buildings in Haifa the impact of these ball bearings as they have been introduced into these rockets. This is the reality Israel faces."
Davis, a member of the House Armed Services Committee, contrasted this approach with Israel's which she said has involved taking "numerous measures to minimize harm to the civilian population of Lebanon." Among these, she said, are "the dropping of warning pamphlets at least 12 hours in advance of Israeli missions in civilian areas" and "the use of advanced weaponry that targets a military objective without harming civilians or civilian infrastructure." Nevertheless, with reports of more than 300 deaths in Lebanon since the outbreak of hostilities, "I have to say to all of you, we must be honest-when engaged in armed conflict, it is difficult to ensure the safety of civilians."
Sanders drew a parallel between the anxiety of Israeli families and that felt by American families for U.S. servicemen in places around the world (such as Iraq and Afghanistan). He then declared to the approving crowd: "Extremists must not be allowed to continue to dictate the terms, to continue to break the peace, to continue to harm our family members, our allies, or people all over the world but especially in Israel.
"Extremists should not be the ones dictating the terms. It should be people who want peace and freedom, who want safety for their families, the same that each of us do. May that day come very soon. May there be a lasting peace in the Middle East and may we help to bring that just by our very presence here today."
A score of protesters waving Arab flags stood across Executive Drive from the Lawrence Family JCC, attracting interviews on local media that in the case of KFMB-Channel 8 received as much air time as the rally involving 100 times as many Jews. One of the protesters echoed comments heard on international media that Israel's response in Lebanon has been "disproportionate."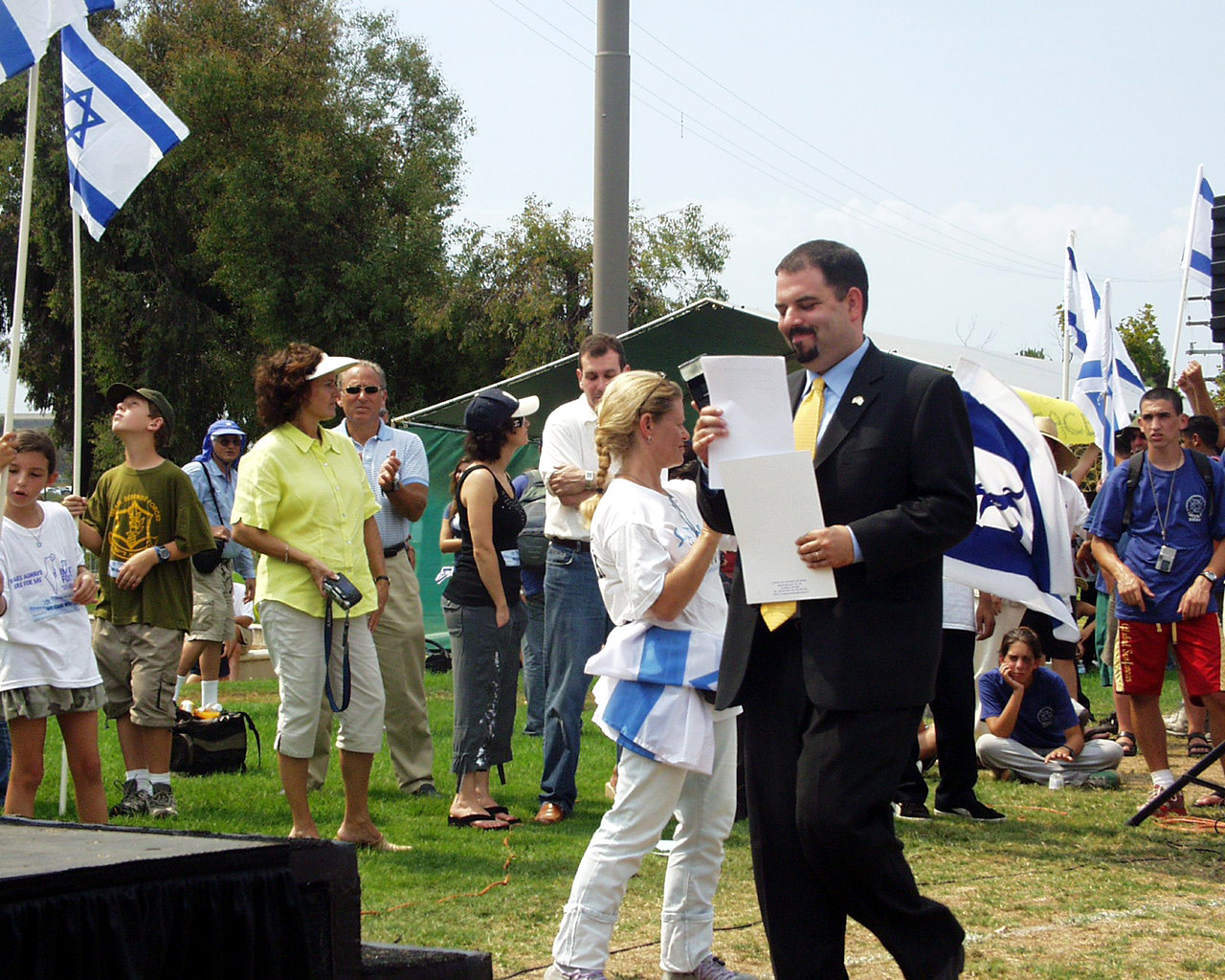 Gilad Millo, consul for public affairs in the Consulate General of Israel in Los Angeles, said "the reality today is that Israel is facing a war on two fronts. In the south, Ashkelon and Sderot are being bombed daily by Hamas-made Qassam rockets. In the north, all of our cities are being bombarded. Just yesterday, Shabbat, the Sabbath, 150 missiles landed in Israel. On both these fronts, ladies and gentlemen, more than 1,500 rockets and missiles have landed in Israel. For 12 days now, a quarter of a million Israelis, your relatives, your friends, brothers and sisters, have been sitting in bomb shelters. Over 2 million Israelis are in the line of fire of Gilad Millo checks speech while heading for podium these deadly missiles. "We will do what must be done to defeat these terrorists," Millo declared to cheers. "We will do whatever we have to do to keep our nation safe, and we will do whatever is in our power to bring Gilad (Shalit), Ehud (Goldwasser) and Eldad (Regev)"- the captive of Hamas, and two captives of Hezbollah-"home safely to their families. UN Resolution 1559 called for the disarming of Hezbollah, but Hezbollah remains armed with 12,000 missiles intended for Israel. We will not live like this anymore! If the world will not disarm Hezbollah, then Israel will disarm Hezbollah!"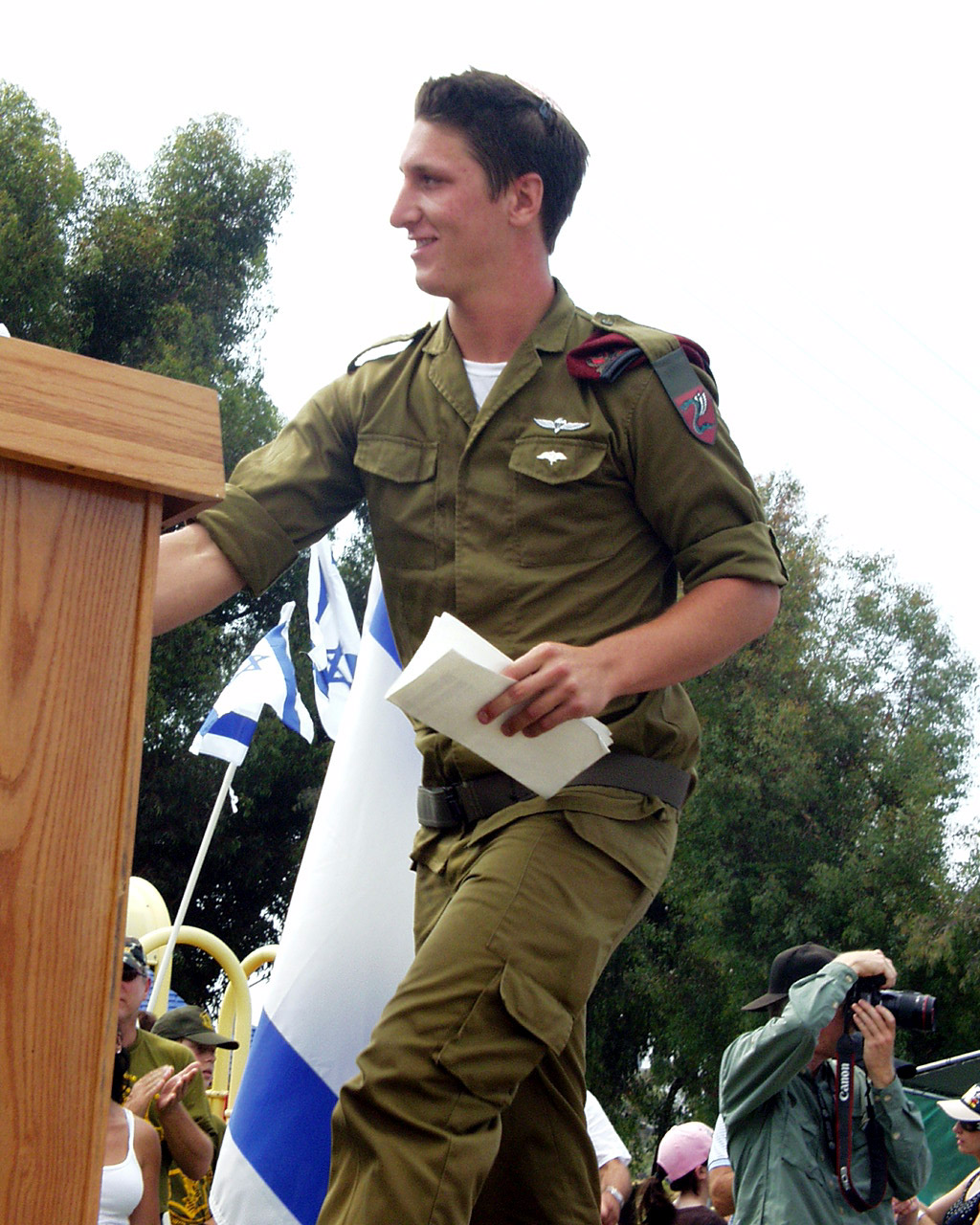 Jacob Fine, a young Northern Californian recently returned from service in a paratrooper battalion of the Israel Defense Forces, was wearing his IDF uniform when introduced to the crowd, which immediately rose to give him, as the personification of all Israeli soldiers, an emotional standing ovation.
Fine said he decided to volunteer for the Israeli military after participating in 2004 in the "life-altering experience" of the "March of the Living" program which takes high school students first to the Auschwitz-Birkenau death camps, and then on to Israel.
 "Although my duty has ended, my brothers-in-arms, young men who are now my friends for life, are now on the front lines in a war that must be won," Fine said. "Each day they are risking their lives, not just to protect the State of Israel, but to protect each and every Jew throughout the world, all of us today.
"I know what it means to my Israeli comrades to have the love and concern of Jews in America. I know what it means to the families displaced by rocket attacks that the Jewish Federation of San Diego cares, and as an IDF soldier, as a 'lone soldier,' I know what your support and solidarity means. I know how important it is for soldiers on the front lines to receive care packages from the friends of the IDF."
Michael Rassler, UJF's executive vice president, during the course of emceeing the event, explained that "Lone Soldiers" is a program recognizing people like Fine, who come to Israel on their own, to join the military and are without family connections. Friends of the IDF has programs to help these soldiers in their off duty hours, by providing them with recreational opportunities, a friendly place to have a meal, even an occasional home visit.
Friends of the IDF is one emergency program the UJF has been contributing to since the crisis with Lebanon erupted earlier this month, Rassler said. Another is a program to send Jewish, Arab and Druze children of northern Israel to summer camps in areas of central and southern Israel, away from the Katyusha rockets. The same program also provides aid to the elderly and the infirm in northern Israel who are trapped in bomb shelters, Rassler said. Prior to the rally, UJF had raised $125,000 in emergency funds for such Israeli causes, he said.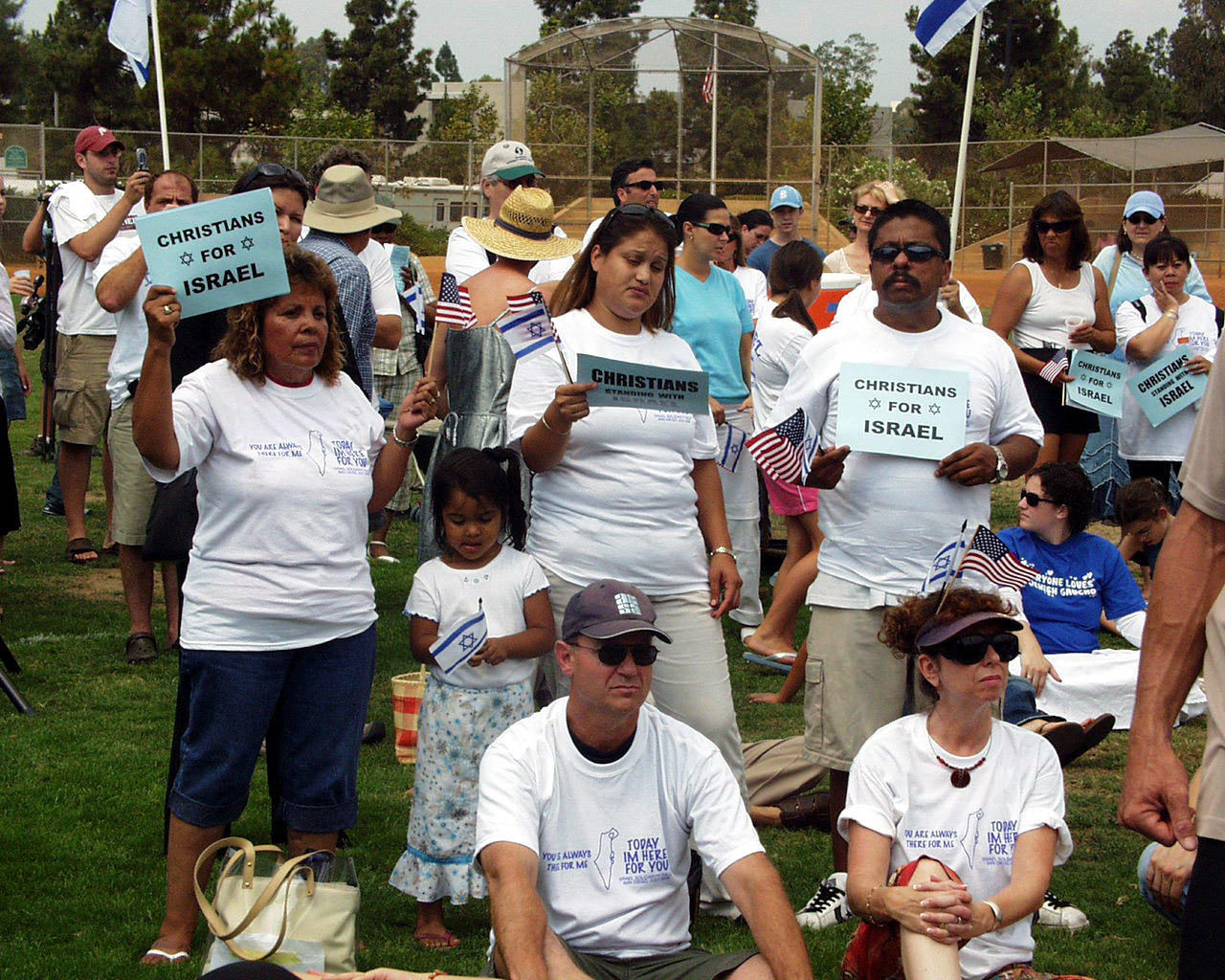 The crowd gave a warm reception to Greg Stevens, regional director for Christians United for Israel, a group whose sign-holding members helped to fill the crowd. Stevens enjoyed one of the few laughs of the afternoon when he told the rally, "Today I represent millions of evangelical Christians who are aware we are repenting of our past of being meshugenahs (crazy people), and we are your friends standing with Israel."
 He went on to say that his group lobbies Congress to support Israel. Just last Wednesday, Christians United for Israel had members from all 50 states in Washington D.C. to confer with more than 300 members of Congress concerning Israel's security. "We encouraged every representative to use every means at their disposal to permit Israel to continue its anti-terror operations in Gaza and Lebanon as long as Israel deems necessary!" he said.
 As the rally emphasized Jewish and Christian unity, so too did organizers make a point of illustrating the broad consensus within the religious Jewish community for supporting Israel.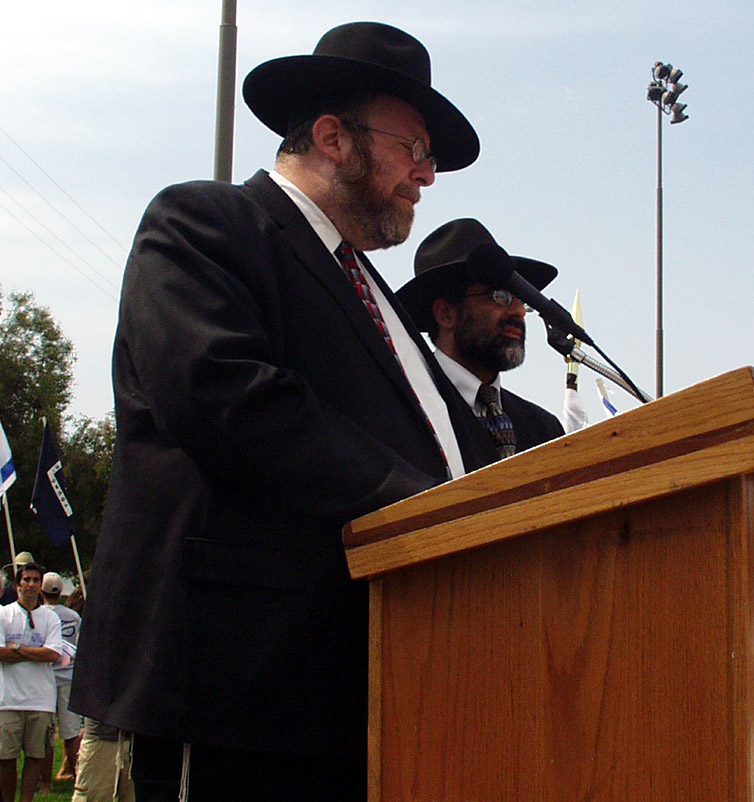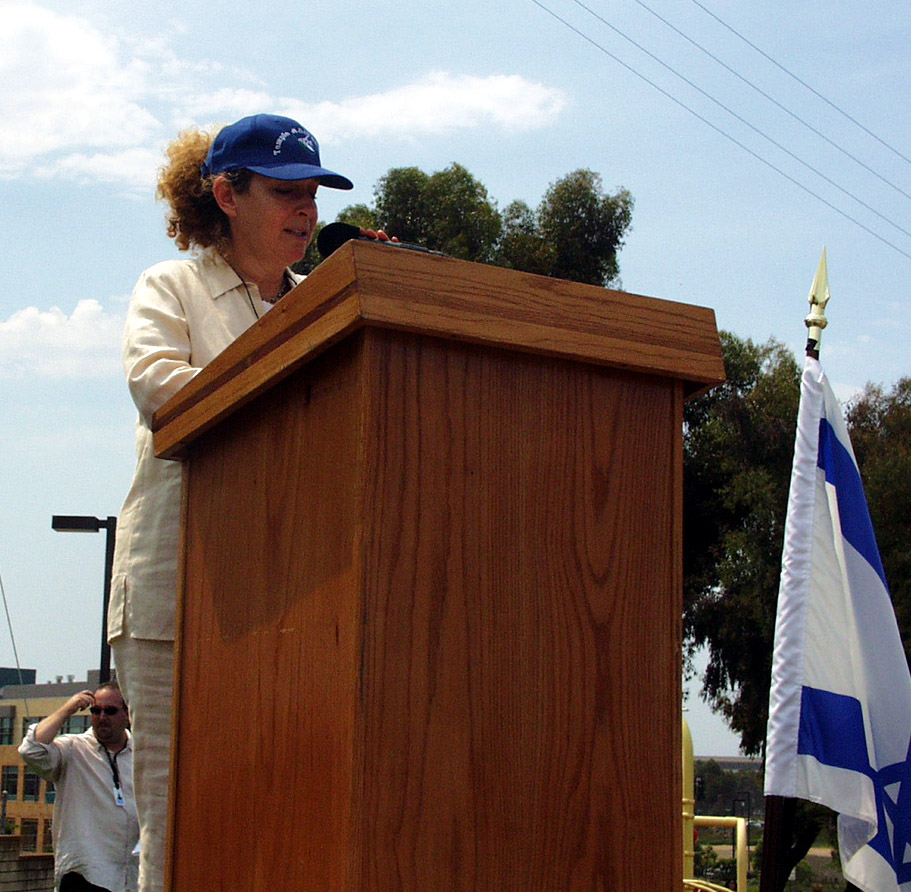 Rabbinical representation-Rabbis Jeffrey Wohlgelernter and Avram Bogopulsky, left, and Rabbi Deborah Prinz, illustrated that pro-Israel support covers the spectrum from Orthodox to Reform
Orthodox Rabbis Jeffrey Wohlgelernter of Congregation Adat Yeshurun and Avram Bogopulsky of Beth Jacob Congregation teamed up for the recitation of Psalm 130 which reads, in part: "Let Israel hope for Hashem, for with Hashem is kindness, and with Him is abundant redemption. And He shall redeem Israel from its iniquities. "
Reform Rabbi Deborah Prinz, representing both the San Diego Rabbinical Association and her own Temple Adat Shalom of Poway, quoted the prayer of a student rabbi studying at Hebrew Union College-Jewish Institute of Religion in Israel. "Strengthen our soldiers to refrain from embracing hatred while they fulfill their duty to safeguard the lives of the citizens of Israel," was one of the supplications expressed in the prayer.
Gary Jacobs, a former president of both the Lawrence Family JCC and the United Jewish Federation, also spoke to the avoidance-of-hatred theme in his capacity as the founder, and financer, of the Jacobs International Teen Leadership Institute (JITLI). This group brings together 40 Arabs and Jewish students from Israel and the United States for joint travel and encounter. The program now is in its seventh year, with the current class leaving on Monday, July 24, for a week in Spain to explore historic Jewish-Muslim relations, followed by a week together in Israel.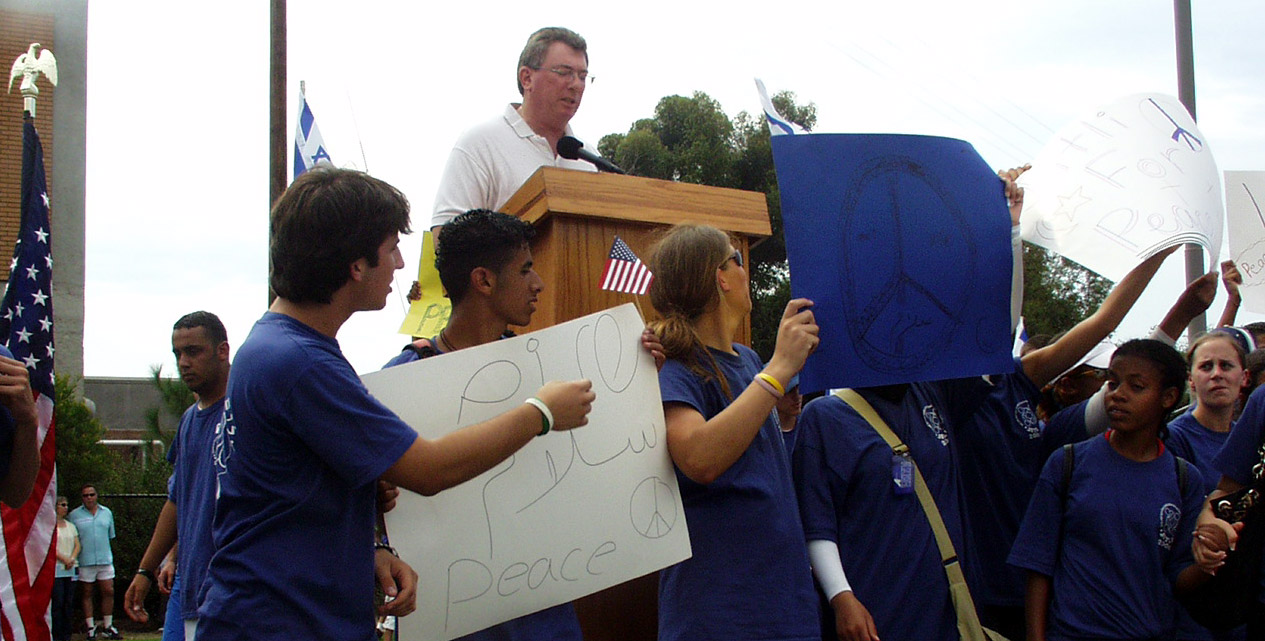 Gary Jacobs, at podium, is cheered by Jewish and Bedouin Arab students during presentation at Israel rally.
"One of the things that we have to think about is how do we create an environment that creates peace in the region so that we do not continue this cycle of violence," Jacobs said. "One of the ways we can do that is by working with the teenagers in the area to get them to talk to each other, to get them to know each other, to get them to break down the stereotypes."
He said that in a previous class "we had a young lady from Gaza, who said 'I am a member of Hamas, I live in a refugee camp, and I understand and watch what happens to our young men, and I understand why they go and blow up a bus.' And then she said, 'but now that I have had a chance to get to know you and to meet you, I know that is not the right answer….'"
The current group of 40 includes 20 Bedouin Arabs from Israeli villages, 10 Israeli Jews and 10 American Jews. Three JITLI members spoke at the rally. San Diegan Saul Moch said that in the five days the group had been together they all felt a bond and a sense of connectedness. Further, he said, "we have come with a message that the war should stop on both sides" -certainly not the prevailing sentiment at the rally, but a viewpoint that was respected.
A Bedouin, introduced only as Mohammed, said that he has relatives in Gaza who have lived without water and electricity, and who are suffering. Since joining the program, he said, he has heard of the effects of the Qassam rocket attacks on Sderot and Ashkelon and has come to the realization that "both sides are suffering from the situation. I hope we really all have the chance to live in peaceful world."
Mayan, an Israeli from one of the kibbutzim of Sha'ar Hanegev, the partnership region for San Diego's United Jewish Federation, said that her brother, Yonatan, had served in the very same unit as the soldiers who were killed and kidnapped along the Lebanese border. Yonatan was spared because his release from the IDF came only one day prior to the incident. " It hurts for me when people, even from the other side, get hurt," she said. "I think this war should end; Israel needs peace. "
One of the most electrifying moments of the rally came when the JITLI students linked arms in front of the podium and earnestly sang the song, "Salaam, Shalom," expressing in both Arabic and Hebrew a mutual desire for peace.
The rally also included speeches by UJF President Ken Polin; by Dan Gardenswartz, executive committee chairman of the regional Anti-Defamation League; and by Leslie Caspi, regional chair of the America-Israel Public Affairs Committee (AIPAC).